Wasteland 2 Beta

This page has information from the Wasteland 2 Beta and may not be accurate when the final game is released.
A Town of Scientific Mutants, it is
When
Squad Echo
arrives, they find the town full of infected people.
Dialog Choices
Edit
Dialog Choices SPOILERS
Jan
Help - log book - turn on air filtration
after air system
Curing - +experience, marks North "Herbert" Shrine on map even if it is there already
Custodians

Won't tell
Will tell - combat

Goodbye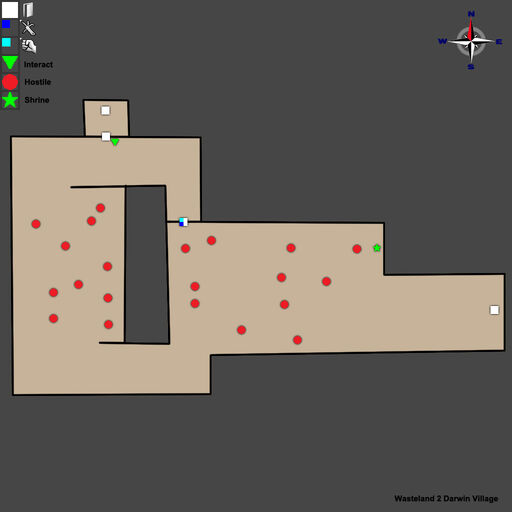 Plague Victims
PROTEUS - 7768387 - from RC museum
Lab door - plague -2 int -4 chr
Lab1 - safe - Bellona "2355662" (from Medal of Honor) - black list
Jan - help
desk clue MEMORANDUM - Irwin Finster - Erwin
Lab2 - alarm disarm door, comp sci door terminal
traps - laser - demo or just shot them
Door - "Irwin" - 47946
gurgling tank - shot it
turn on air system to cure plague
Night Terror Door code ICEBERG - 4232374
Night Terror - comp sci door - flesh parts is candy
Items and People Of Interest
Edit
Encounters
Edit
Unity file name: AZ10_Cops_14.unity3d
Ad blocker interference detected!
Wikia is a free-to-use site that makes money from advertising. We have a modified experience for viewers using ad blockers

Wikia is not accessible if you've made further modifications. Remove the custom ad blocker rule(s) and the page will load as expected.