Wasteland 2 Beta

This page has information from the Wasteland 2 Beta and may not be accurate when the final game is released.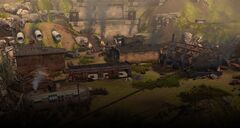 For Highpool in Wasteland 1 see: Highpool
See also: Highpool Destroyed
Background
Edit
Highpool is the home to a rather close-minded community of people, who are most notable for their loathing of Rangers. This deep set hate comes from events that happened years before, but which are still fresh in the minds of the townsfolk. The town is built on an old reservoir, with large pools of water on top of a walled hill (hence the name "Highpool").
This is the second mission in Wasteland 2 and is a choice whether to visit it before or after Ag Center.
Dialog Choices
Edit
Journal
Protect Highpool from the Wrecking Crew.

finish them at their camp

Stop the wreckers attempting to break into Jess-Bell's safe.
Locate and recover Jess-Bell's "dowry".
Take Alexey's note to his 'soul mate' in Highpool.
Restore power to the radio tower.
Talk to Kate Preston in the tunnels under Highpool.
Help save a burning house.
Help a man find his dog.
all choices
Wormy Jim
Trade - discount if wreckers are killed
Goodbye
---
Jess-Bell
Help - stop wreckers in other room
Red Skorpions
Goodbye

after HP tunnel
Dowry - give item - log book
---
Wrecking Crew in house
Loot - they open the safe and leave
Nasty - fight
Move Along - HA lv4 - they leave
---
Jess-Bell - after wreckers
Dowry
Father
Saving - give note to her

Yes - mission to get dowry
No - end dialog

Never - SA - nothing?
---
Jess-Bell - after
---
Townie
Killing - HA lv2 - leave to join battle
Die - KA lv2

Helping - leaves
Repay - leaves
---
Alexey Chuklin
Chai

Energy

Hug

Love

Help

Soul mate

Yes - get note - take to soul mate
No - end dialog

Goodbye

after Laddie
Message - give stone - log book

Stash - becomes merchant, with unique items
---
Sean Bergin
Radio
McNamara
Rangers - log book - restore power
Clowns
Irrigation - log book - talk to Kate
Mayor
Finish - log book - WCS on map finish them
Goodbye
---
Mark Stachowiak
Pipes

Pump

Pressure - HA lv2 - log book - find valve
Nearly - KA lv2 - log book - find valve

Aquifer - SA lv4 - log book - find valve

Goodbye
Can use Mechanical Repair if you don't have HA,SA,KA
---
Laddie
Ruf

Wooff - log book

Rrufff - log book - receive small gray stone

Goodbye
---
Adam Doochin
Guess

Commotion
Dog
Help - receive chew toy

Goodbye
---
Harold
Smokes
Trade
Snake Squeezins
Pump
Goodbye

after vote - kate
Arrested

Commission - HA - receive Vulture's Cry's gear
---
Dr. Scott Warner
Patch
Help

Irrigation system
Kate Preston

Goodbye
---
Juvie
Cigarette
Give cigarettes - makes them leave
Wrist Rocket - together with marbles makes them leave
Marbles
---
Vulture's Cry

after juvies leave
Rangers
Justice
Free
Help

Yes - end dialog, joins party once set free
No - end dialog

Goodbye
---
Kate Preston
Rangers
Bergin
Crisis Two
Crisis Three

Mayor
Lights
Signal - log book
Water
Topsoil
Help - 4 release valves, areas 4,5,9,10

Goodbye

after vote for her - get ship in bottle & jail cell key for Vulture's Cry
Bergin
Mayor
Red Skorpions
Water

after WC Stronghold completed
Stronghold - receive an item - grenade?
---

Radio
Doors, world, sewer, house, hall
Wrecking Crew
Chest,Trash bag, dirt, safe
Landmines
Wormy Jim - Merchant
Statue +1 skill point
Hall - water purifier - engine, pump then mechanical repair (level 4 challenge)
Vulture's Cry

Gear at Hall store after vote, G43-W, 20 .30-60, Unusual Bow, Pet Rock
Underground
Edit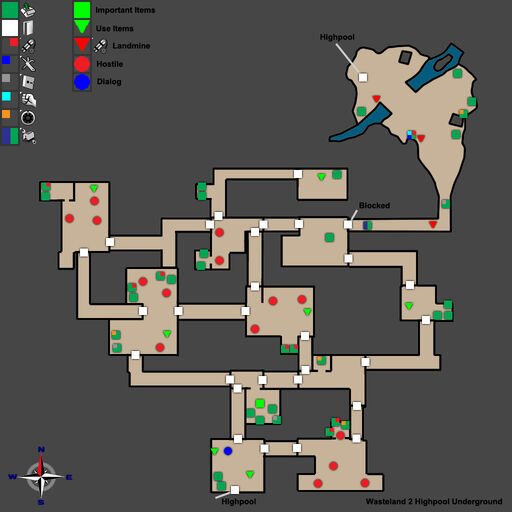 Landmine
Bat shit - keep and bring to RC
JB dowry in safe
key for trapped chest, if you have no skills
1 cockroaches
2 valve item, containers
3
4 valve, containers
5 valve, containers, cockroaches
6 radio power switch, cockroaches
7
8 cockroaches
9 valve, containers, cockroaches
10 use valve item from 2, container
Encounters
Edit
Unity file names: AZ02_Highpool.unity3d, AZ02_HighpoolUnderground.unity3d
Ad blocker interference detected!
Wikia is a free-to-use site that makes money from advertising. We have a modified experience for viewers using ad blockers

Wikia is not accessible if you've made further modifications. Remove the custom ad blocker rule(s) and the page will load as expected.