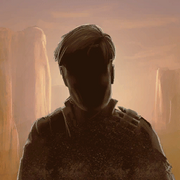 This Wasteland 2 NPC is located in the Rail Nomads Camp, south of the entrance/exit to The Wasteland, on the east side of the map near the river (between 4 o'clock and 5 o'clock if the map was a clock).  There are land mines surrounding him, so a Perception Level 3 is needed to detect them. These mines are 100% easy disarmable at Demolitions Level 4.
Dialogue
Edit
The Provost has the following dialogue:
1. "HIC SITVS EST PHAETON, CURRVS AVRIGA PATERNI..."
2. "QVEM SI NON TENVIT, MAGNIS TAMEN EXCIDIT AVSIS."
3. "HOMO EST DEVS."
The first two combined translate from Latin as: "Here lies buried Phaëthon, the driver of his father's carriage, which he did not manage, still he perished in a great attempt" (Ovid)
The Provost will assist you with his handgun if combat occurs nearby his location. He will then follow you from a distance and assist in other combat, wearing a white suit and tie, holding his gun up like James Bond. He will enter buildings and transition to the Atchinson camp. 
If you kill him, he holds a medallion Owl of Minerva, which contains the Greek letters alpha, theta, epsilon.  This may be the combination for a safe in Canyon of Titan.