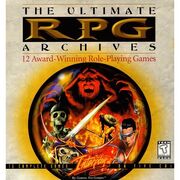 The Ultimate RPG Archives released in January 31, 1998 was a collection of twelve of the best role-playing games ever made. The collection was published by Interplay and contained games by other developers as well. Except of the game disks in the package there is also a massive volume of over 500 pages containing the original documentation of all 12 games and various tool to increase compatibility with 1995 hardware. Maps and reference material are not included in this collection. Here is a list of the games included in the package:
Ad blocker interference detected!
Wikia is a free-to-use site that makes money from advertising. We have a modified experience for viewers using ad blockers

Wikia is not accessible if you've made further modifications. Remove the custom ad blocker rule(s) and the page will load as expected.